I just searched my blog for tips on de-cluttering and organizing things, and was surprised to find nothing. So, I guess this won't be a duplicate post. Anyway, over the years I've read many, many books on how to organize your home and family, with lots of ideas for different routines and systems. Since it's been five years since we moved, I've determined that this fall I need to go through our closets and cupboards again. I know there are things stored that I haven't touched for five years, and I'm working up the courage to get rid of them. To help with that, here are some notes that I've jotted down as I've read various "how to de-clutter" books and articles. We'll see if any of these ideas are motivating enough!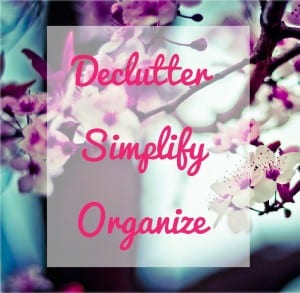 picture from organizingmaven.com
I am not the same person as I was ten years ago. Things change.
Release things we've outgrown or outlasted, even if they have value. Let someone else enjoy them. Surrendering to new things helps us grow and improve.
Learn to recognize when a phase of your life is over. It's okay to get rid of children's toys and old manuals.
Leave 20% of storage space free.
Ask yourself, "What does 'organized' look like to me? How does it make me feel?"
You'll never find time to de-clutter and organize, you need to make time.
You can choose to create the life you want or you can continue to deal with the life you don't want.
Keep nothing unless you KNOW it to be USEFUL, or BELIEVE it to be BEAUTIFUL.
Ask yourself, "Do I still love or value this item?"
It's not junk if it generates happy feelings.
Think STOP–Sort, Toss, Organized and Put away–as you clear clutter from your space.
If those statements don't work, maybe this one will:

Let there be an hallowed influence go from us over all things over which we have any power over the soil we cultivate, over the houses we build, and over everything we possess. – Brigham Young
And remember this as well: "We have to forego some good things in order to choose others that are better or best." (Elder Dallin H. Oaks)